Worker's Compensation Board of BC
Engineering Section Report

P.O. Box 5350, Vancouver BC V6B 5L5; Telephone: (604) 276-3114; Fax: (604) 279-7407
Report by Stuart Eaton, February 2000.
Summary
Noise exposure levels of construction workers are difficult to determine due to the day-to-day variation in occupation and shift length of each worker and the itinerant and seasonal nature of the job. Nevertheless, it is clear that the construction worker is exposed to very high sound levels for considerable lengths of time.
Noise control possibilities on-site are limited. Construction companies rent equipment from equipment suppliers and are not at liberty to improve them. Other on-site equipment may belong to subcontractors. This too, may not have been designed for reduced noise emissions. Designing practicable, noise retrofit kits able to endure the environment of building sites is difficult. Techniques for controlling noise lie largely in the management of the site (e.g. avoiding noisy processes, scheduling noisy activities for when few workers are present) and isolating noisy processes by placing temporary sound barriers or screens. The most effective method will be realized when companies request and obtain equipment with low noise emissions, insist on 'residential' rather than 'industrial' grade combustion engine exhaust silencers, prefer electrical over pneumatic hand power tools, hydraulic over air powered rock drills, 'silenced' pile drivers over diesel pile drivers etc.
Acoustical research has demonstrated construction tools and noise can be quieter. However, little seems to have been implemented by manufacturers except where required by law or by a few European manufacturers. Machines most successfully treated are those made the subject of legislation enacted in the 1970s in US, UK and member countries of the EC. These machines include trucks, pneumatic pavement breakers and air compressors. An example of the text of a municipality's web site Notice to Contractors is reproduced, in part, in Appendix 1.
Otherwise, the quieter saw blades referred to in the literature are not readily available, the more effective silencers are not installed on equipment as standard, and (unlike Europe) the diesel pile driver continues to remain in unrivalled and unabated use.
One conclusion is that without bylaws, legislation and enforcement, progress in noise control on construction sites will not happen. The problem can be addressed:
At the source, by the Federal Government requiring noise emission labels on tools and machines.
At the source by Municipalities requiring construction companies use only tools and equipment which meet acceptable noise emissions.
At points of reception by Municipal inspectors ensuring site boundary noise limits are note exceeded.
In the work site by WCB inspectors by ensuring tools and equipment are maintained and that workers participate in an effective hearing conservation program (WCB Occupational Health and Safety Regulation, Section 7.3 (2))
Such measures 'level the playing field' for companies interested in noise control but who, otherwise, would be put at an economic disadvantage if they alone did so.
Table of Contents
Summary
Table of Contents
Objectives
Introduction
Noise Exposure Levels
Approaches to Noise Control
Engineering Noise Control
Practical On-site Noise Control
Inspection Hints
Noise Control Planning
References
Appendix
Objectives
(back to top)
This report examines the noise exposure of construction workers - especially laborers, identifies the main noise sources to which workers are exposed to and discusses engineering controls capable of reducing the noise at source.
Introduction
(back to top)
The Construction sector in BC is of a significant size, employing as many workers as the sawmill and the heavy manufacturing sectors. Currently, 8% of all hearing loss claims are attributed to this sector, comparable to the heavy manufacturing group (next sector) but far less than the sawmill group (about 30%). Unlike the case with Sawmills, the magnitude of construction workers' hearing losses are not noticeably falling with time. The annual average cost of hearing loss claims (excluding healthcare and rehab costs) in the Construction sector is $295,0001. This may be expected to rise with more workers being gathered under hearing conservation programs.
Noise-induced hearing losses of construction workers were probably acquired prior to the introduction, in that sector, of hearing conservation programs in 1988. One expects more workers to file claims as their awareness of their entitlement to claim for hearing loss increases as they approach retirement age. Minor reductions in the average hearing loss should be expected at least until the older workers retire and are replaced with younger workers having less hearing loss (who will have benefited from effective hearing conservation programs). Thus, the numbers and magnitudes of future claims will begin to fall over the next decades.
Demographics indicated the bulk of the population will be reaching retirement age within the next decade. Thus, while older hands work their way 'through the pipe', the claim rate may initially increase for a few years. At the same time, the younger entrants into the construction workforce will have to become acclimatized to protecting their hearing.
This report will also examine the noise control aspect of hearing conservation program in the construction sector.
Noise Exposure Levels
(back to top)
The hearing loss claim rate in the Construction sector is lower than the Forest Product (FP) sector due to several factors including:
FP sector may have higher continuous average noise exposure levels
FP sector workforce is a less transient workforce
FP sector can maintain more complete control over their workers
FP sector is more completely unionized to aid workers in their claims.
Only the first of the above factors is addressed in this report. WCB's Hearing Conservation Section has a database of noise exposure data on various trades. However, a recent report2 shows that we must be circumspect when referring to 'construction noise' as if noise exposures were common throughout all types of construction; noise levels vary considerably between types of construction:
The mean Leq of workers in a type of construction is determined to some degree by the power of the equipment they use or are exposed to and the environment in which the equipment is used. Earthmoving machinery used in large construction projects generates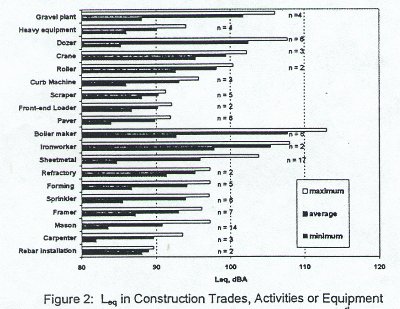 more power and noise than for a smaller project. When the noise source is inside a building or semi-enclosed space, it will create higher sound levels than if it were outside.
Note: Noise levels are expressed in terms of the energy-equivalent continuous noise level, Leq. No attempt is made to convert to LLEX, which normalized the Leq to an 8-hour day. This could only be accomplished given a worker's pattern of exposure to noise; workers switch to different jobs/tools/sites, and their shift length is variable and seasonal.
Extensive noise surveys conducted in Ontario2 provided the noise level data on various trades and activities in the construction sector. Data from a study of noise levels in UK3 construction are shown in Table 1. There seems little or no conclusive evidence from these samples that one country's construction noise is higher than another's.
In early construction stages, we found a large variety of hand tools and other machinery contributing to a background level which is usually above 80 dBA; a dosimeter fitted to a rigger (himself an insignificant noise generator), who ranged over the site, returned with Leq=86 dBA. This 'background' sound level generated by on-site noise sources is sufficient to exceed the noise limit of Section 7.2 (LEX=85 dBA) of the Occupational Health and Safety Regulation, WCB of BC, 1998.
Approaches to Noise Control
(back to top)
The technical literature contains research papers on a wide variety of common noisy tools and machines appearing on construction sites. Much of the research received strong impetus in the 1970s with the introduction of various environmental regulations4-14 and city noise ordinances15 which required noise emissions from building sites be reduced to avoid environmental noise complaints (i.e. complaints about noise generated on one site, traveling through the environment and affecting people in another location).
Some of the research work on tools and machines are referenced in this review. Recent studies 16,17 of construction sites showed little benefits of the research has been realized.
The control of construction noise that has been achieved is due in large part to the actions taken by governments responding to environmental noise complaints. The environmental noise law may be national statute or local bylaw and attempt to control construction noise by various means such as:
Prohibiting construction activity by time and date in city zones
Directing trucks to less noise-sensitive routes
Requiring machines conform to noise emission standards
Requiring construction sites use barrier techniques to reduce noise propagation from the site
Toronto's Noise By-law of 198715 limits noise as follows:
70 L/s air compressors to 73 dBA at 7 m
Leaf blowers to 70 dBA at 15 m
Refuse compacting equipment to 80 dBA at 7 m
Pneumatic pavement breakers 80 to 92 dBA at 7 m depending on weight and date of manufacture
Heavy construction equipment (dozers, backhoes, mobile cranes, pile augers, trencher etc.) to 83 to 88 dBA at 15 m depending on power output and date of manufacture
There are in principle, several means by which to secure noise exposure reductions:
Hearing protection
Reduction at source by retrofitting engineered controls
Selection of quieter tools/machines
Application of quieter processes
Enclosure of the noise source
Limitation of daily duration of exposure (including job rotation)
With construction tools and construction sites, some of these general possibilities encounter obvious difficulties. Recent work with construction workers has shown room for considerable improvement in the studied groups' use of hearing protection devices. The only alternatives this report will discuss are those centering around engineering controls to reduce noise.
Engineering Noise Control
(back to top)
Mobile Equipment
(back to top)
Early in the site preparation stage, sound levels are dominated by heavy mobile equipment including trucks, bulldozers, and front-end loaders. The operator of modern equipment generally enjoys a much quieter cab (if the cab can be enclosed) than 20 years ago. Project work on a bulldozer's and a front-end loader's cab in 1980/1 demonstrated successful and practicable noise control techniques. Similar technology has been applied to the cabs of other vehicles, such as trucks. This was accomplished with commercially available noise control materials including absorptive headliners, floor mates, noise barrier mats and gaiters where control cables penetrated the bulkhead18-24.
One report25 indicates a series of problems in attempting to comply with the OSHA noise regulation. Equipment manufacturers rejected purchase orders containing noise control specifications. Attempts to make existing equipment quieter met with several difficulties after a few months. This field-testing highlighted needs for:
Improved quality of mufflers with longer lifetime and more noise reduction. Muffler volumes should be about ten times the volume of the combustion cylinder to be effective. Other work shows that when a very poor muffler is fitted, the exhaust noise is typically 10dB above any other noise source. Addition of an improved muffler can lower noise by 6 to 15 dBA.
Consideration of a driver's visibility when adding cabs
Floor mats and absorptive side door panels to be removable for maintenance
Effective adhesives for (and cleanable) sound absorbing panels
Engine intake mufflers26,27
Sound absorbing hoods over engines
Isolation of hydraulic reservoirs/valves from cab's control box
Pile Drivers
(back to top)
Notoriously noisy items of site preparation equipment are percussive pile drivers. The diesel driver is seen and heard frequently in Richmond. One technique reported diesel drivers using a noise barrier set around the top of the pile (point of impact with the dolly and the length of the pile). A British development, named the Hush 'X' Rig28-30, claims a noise level of 70 dBA at 15 m. with these features.
Rig's leaders can be adapted to accommodate any diesel hammer up to 85,000 ft-lb energy output and can accept most types of prefabricated pile Improved paneling for wide variety of hammer noise Efficient ventilation system scavenges exhaust gases, cools hammer and supplies combustion air Hydraulically operated full length doors for safety
By comparison, a Delmag diesel piledriver seen on site locally was not fitted with any engine muffler. The Leq was about 95 dBA near the site hut where the foreman reported that under the impacts experienced by the hammer, the mufflers soon fall off! Quieter, alternative piledriving techniques have been available for many years (compare levels Table 1) largely as a result of the introduction of environmental noise laws to minimize disturbance to residential neighborhoods. Hydraulic and vibration pile drivers do not use the impact principle and are inherently far quieter. (A piledriver referred to as the 'Resonant Driver Unit 400' of Hawker Siddeley Canada Ltd. Of Vancouver, BC, was reportedly28 13dB quieter than the Delmag).
Much of the incentive for the UK's development of construction site noise seems to stem from the Control of Pollution Act 1974 (UK) and British Standard 5228, 1975 'Code of practice of noise control on construction and demolition sites.'
Portable Air Compressors
(back to top)
Portable air compressors are used to provide the compressed air power source for pneumatic tools e.g. the pavement breaker. The noise from compressors has been successfully reduced (10 to 20 dBA) over the years. Compressors have been silenced by a combination of enclosures fitted around the engine and compressor; additional engine exhaust muffler, lined inlet air ducts, isolating the machine vibration from the frame and possibly fitting a quieter fan31. The significant noise control principles are illustrated in the sketch as the techniques could be transferred to other noisy machines.
As with other noisy tools and equipment, quieting the portable compressor was in response to the environmental complaints of the 1970s. An enclosed compressor if properly designed should not overheat. Enquiries were made of a road crew over letting a 'quiet' compressor run with its side doors open; their reply was the doors made handy shelves for the pneumatic drill's bits and chisels; - overheating was not the problem!
Air Track Drills
(back to top)
Noise levels from pneumatic percussive drills are high, exceeding 110 dBA at operators' ears. Air discharge and the steel drill rod noise are roughly equal. Thus quieting one source without the other would yield a reduction of only 3dB. US Bureau of Mines achieved a reduction of 18 dBA on a jumbo-mounted air drill 20 years ago.32 The technique involved development of an air exhaust muffler integrated with an acoustical enclosure for the drill. The enclosure could be easily opened for maintenance. Drilling rate was unaffected and the muffler/enclosure suffered no serious degradation after drilling 5,000 feet and spending several months in an underground mine.
Engineers developed a redesigned stopper drill33. The redesigned chuck and steel shank corrected misalignment in the drill (causes bending waves and noise). The drill rotation was controlled by an independent air motor to avoid excess noise caused by over- or under-rotation. Other innovations included a radially symmetric main cylinder that then permitted a plenum chamber to surround the drill body over its full length; the chamber was developed into an exhaust muffler.
A quieter alternative to the air drill is the hydraulic drill, whose drill steel still produced noise but the noisy pneumatic discharge is eliminated.
Joint Cutter/Stone Saw
(back to top)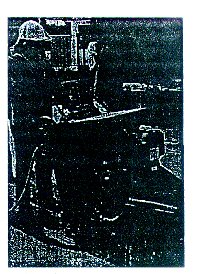 This machine, powered by a two-cycle engine, is used for cutting joints in concrete and asphalt. The circular saw blade is impregnated with diamonds around the periphery and the rotating grinding action excites the blade into vibration.
In one investigation24, a joint cutter was fitted with a metal hood to screen the operator from the machine and anti-vibration mounts were used to fit the engine to the frame. Reductions of 6dBA (cutting) and 8 dBA (idling) were recorded.
Another investigation34 into the noise of a stone cutting saw concluded that the dominant noise was due to the excitation of the saw frame by the saw blade's vibration. The frame seemed to the major component of the noise. The work described as small pad supplied with water (normally just for cooling the blade) to serve as a viscous damping layer between pad and blade. With the water issuing form fine perforations into the clearance (about 0.2 mm) between pad and blade, a reduction of 12 dB was achieved.
This device seems to be a practicable solution to the problem of stone cutting saw noise.
Hand Tools
(back to top)
Hand tools are difficult to quiet because35:
The worker's ear is close to the noise source (within arm's length or less when the work piece conducts noise much closer to the ear).
Any noise control measures may violate weight, size and cost restrictions required to meet tool utility making retrofit usually impracticable
Isolating the noise source is impracticable with most portable hand tools because a sound proof enclosure restricts access to the work piece and tool
Hammering nails can produce high peak levels (over 130 dB) at ear level. Fortunately, the high frequency components decay rapidly (in about 10ms). A significant component of noise in the middle construction stage was impact noise; workers hammered to erect or release forms for re-erection on the next higher level. Others banged on frames and metal screwjacks to drop support timbers. Controlling hammering noise is impracticable.
Portable Pneumatic Drill/Pavement Breaker
(back to top)
The portable (under 40 kg) pneumatic rock drill is among the noisiest of hand tools on the construction (or demolition) site. The discharge of compressed air from the tool produces its' dominant noise. Secondary noise sources include the cylinder head casing, front head and chisel36.
Muffling the exhaust is usually achieved by either an integral muffler, small strap-on muffler (5 dB reduction) or by piping the exhaust air away. It is reported that strap-on mufflers large enough to enclose the cylinder case also reduce noise from this latter area at the same time to provide an extra 2 dB reduction. Strap-on mufflers enclosing the cylinder case and fronthead provide an overall reduction of 13dB.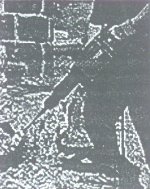 The noise of a typical unsilenced pavement breaker can be reduced by 16 dB.
Electric pavement breakers are available in the middle to light duty categories. These include the Makita HM1800 and the Hilti TE905. The latter unit features a novel active vibration reduction system which effects a significant reduction in exposure to hand arm vibration. The electric units do not discharge pneumatic exhaust, so noise is that due to the steel bit/pavement/striker interaction.
Cut-off Saw
(back to top)
There are several noisy portable tools powered by two-cycle combustion engines, one of which is used to cut rebar. A relative of the chain saw, Stihl TS400's spectrum featured strong peaks at 160 Hz (engine firing frequency) and at mid and high frequencies (630 and 1600 Hz) when idling at full throttle. When cutting rebar even higher levels at frequencies above 1 kHz (sound level 108 dBA) were recorded. The increase is due to the rebar and saw blade responding at natural frequencies to the excitation in cutting.
Research shows that adequate exhaust silencing is achieved only when the muffler is much26 (ten times) larger than the engine's displacement. In the case of the TS400, engine size 64 cc, an adequately sized 'cube' shaped muffler would have sides of length of 18 cm. Rebar noise could be damped by laying sandbags along the bars' length.
Circular Saw
(back to top)
The carpenters' 'Skil' saw is a common noise source, the total noise output is dominated by noise in the high frequencies. Saw blade noise can be reduced (perhaps by up to 5 dB) by using sharp blades. The gear sets were a source of noticeable noise. This could be addressed by manufacturers installing better cut gears. Spiral cut gears are reputedly quieter rather than spur cut gears.
Reducing noise from saw blades is complex as several sources of noise contribute. Aerodynamic noise can be reduced by careful selection of tooth shape, gullet geometry and plate thickness, which should be selected to avoid coinciding with natural resonant frequencies of the disc37. Attempts to reduce noise radiation from the vibrating sawblade using laser cuts in or near the periphery have been successful38. The Laser-Q circular saw blade (manufactured by Ernest Bennett (Sheffield) Ltd.) features a number of narrow (0.2 - 0.4 mm) slots made in a standard blade. These slots are elongated S-shapes, terminating in a small diameter hole, equispaced around the outer 15% of the periphery. The slots are filled with a nonmetallic resin which, after curing, increases the strength of the blade reduced by the slots. The treatment can be applied to blades for non-ferrous metal and stone cutting. Examples of noise reduction are: ripping wood up to 6.4 dBA, flag stone cutting 2.8 dBA, brass >10 dBA.
Other Electrical Tools
(back to top)
Electrical tools found on-site can be noisy; electric drills for example, produced sounds levels of 84 dBA (1/4" bit), 92 dBA (3/8") and 97 dBA (1/2"). Cooling fans, carbon brushes/commutator and gear box are important noise sources. Sabre saws (101 dBA), belt sanders (95 dBA), disc grinders (95 dBA), routers (95 dBA) and reciprocating saws (95 dBA) are noisy35 too. Quieting is practicable only by improved redesign by the OEM. The electric chainsaw (91 dBA) is notably quieter than the gas chainsaw (112 dBA)35.
The Hitachi chipping gun's chisel rattled because it clamps in a steel chuck. The Hilti TE75 is quieter; its chuck is rubber-lined, gripping and damping over a greater surface area. Workers prefer electric over pneumatic guns as they are lighter and quieter.
Practical On-site Noise Control39
(back to top)
Planning
(back to top)
It is usually cheaper and more effective to plan for noise control prior to construction: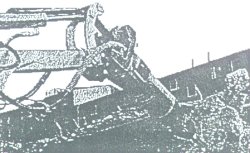 Plan to locate noisy plant (generators, compressors, pumps and concrete batching plant) away or screen from work areas
Obtain probable noise levels of different equipment to aid in selection. Consider quieter alternative work methods (e.g. 'quiet piling' systems or rig-mounted hydraulic breaking equipment such as Atlas Copco's TEX HS).
Discuss noise problems which may occur with subcontractors e.g. if subcontractors will be bring a noisy machine
Noise Control
(back to top)
Locate noisy machines away from main areas of activity. Otherwise, screen plant from work areas by using noise screens, berms or material stacked to form barriers
Fit silencers to combustion engines. Ensure they are in good condition and work effectively
Ensure hand-held concrete breakers are muffled
Maintain machines regularly - they will be quieter
Keep machinery covers and panels closed and well fitted. Bolts/fasteners done up tightly avoid rattles
Check for noise problems. Do workers have to shout at arms length to converse?
Switch off engines or reduce to idle when not in use
Hearing Protection Devices (HPDs)
(back to top)
Despite all efforts hearing protection may still be needed.
Ensure workers know when/why to use HPDs. Warning signs on noisy machines
Offer comfortable HPDs as they are likely to be worn - workers can choose between different types
Insure workers know how to use/care for HPDs (headbands go over the head not around the neck, compress foam ear plugs well before insertion)
Replace damaged, hard or worn muff seals
Ensure managers and foremen set good examples

Inspection Hints16

(back to top)

Noise control

(back to top)

Is there a written noise control policy?
Is there evidence quieter tools/machines were selected (e.g. air compressor)?
Is there evidence of maintenance to minimize noise (sharp saw blades, mufflers for pneumatic tools and combustion engines adequately sized and in good condition)?
Are noisy machines relocated to distant places (compressor)?
Are sound barriers in use to reduce spread of noise (erect around noisy jobs)?
Are noisy processes done when other workers are not present (e.g. concrete grinding)?
Are vibrating tools or parts isolated from other structure?

Hearing protection:

(back to top)

Do all workers wear hearing protection?
Is there evidence of signs, instruction or supervision at noisy locations (warning signs at site entrance alone is not enough)?
Is some form of hearing protector available upon request on site?

Training and Education

(back to top)

Is there evidence of training/education in the effects of noise and in noise control?

Noise Assessment

(back to top)

Is there any noise measurements performed on site?
Can workers show their current Hearing Tests?
Is there evidence of follow-ups when hearing loss results?

Noise Control Planning16

(back to top)

Awareness of noise levels and noise management included in all trade health and safety courses.
Have noise control measures/quiet tools developed for specific trades included in all trade health and safety courses.
Have noise control measures/quiet tools developed for specific trades included into trade guidelines.
Health and safety programs developed for construction trade should include a noise hazard component.
Tool/machine suppliers must be encouraged to offer noise emission level information on equipment labels and instruction manuals.
Encourage municipalities to develop noise bylaws for construction sites - companies use only tools/machines with reduced noise emission levels.
Articles describing successful noise management outcomes in construction should be submitted to trade journals for publication.
Adoption of Federal Government backed CSA Standard for Machinery Noise Emission Levels should be supported.
Development of training programs for tailgate presentations on components of a hearing conservation program. Prepare another program for union safety representatives.
WCB inspectors to be seen doing on-site noise inspections leading to recommendations for implementation of noise management.
Union safety officers should be encouraged to participate in noise surveys

References

(back to top)

Eaton S., 'Noise & Vibration in Worksafe Industries', WCB of BC Engineering Report WCB-99006, March l999
Sinclair J.D.N., and Haflidson W.O., "Construction Noise in Ontario': Applied Occup. Environ. Hyg. 10(5), May l995, 457-460
Anon., "Exposure of Construction Workers to Noise, Construction Industry Research and Information Association, UK, 1984
US Environmental Protection Agency: "Noise Control Act of l972"
US Environmental Protection Agency, "Noise Emission Standards for Transportation Equipment - Medium and Heavy Trucks", 41 FR 15537-15558, April 13, l976
US Environmental Protection Agency, "Portable Air Compressors - Noise Emission Standards", 41 FR 2161-2182 January 14, l976
US Department of Housing and Urban Development Circular 1390, USA, "Noise standards for housing sites to be observed by builders wishing to obtain federal assistance", l971.
Anon., "Control of Pollution Act l974", HMSO, l974
British Standard 5228: l975: "Noise Control on Construction and Demolition Sites", British Standards Institution, UK, l975 (updated and extended in 1984)
Draft Singapore Standard 118/2/59-3 TC/ISC, "Code of Practice for Noise Control on Construction and Demolition Sites", Singapore Institute of Standards and Industrial Research, Singapore, 1982
Standard for Noise Control Concerning Specified Construction Operation", Japan 1968
NZS 6802, "New Zealand standard on construction, maintenance and demolition work", New Zealand, 1982
Anon, "Noise at Work Regulations", HMSO, 1989
Anon. "On the protection of workers from the risks related to exposure to noise at work", Directive 86/188/EEC, May, 1986.
Cummings G., "City of Toronto Equipment Noise Suppression Program", 1987 or later
Burgess M. & Lai J., 'Noise Management for the Building Industry', University New South Wales, October l999
Lusk S.L., Kerr M.J., Kauffman SA., "Use of Hearing Protection and Perceptions of Noise Exposure and Hearing Loss among Construction Workers", AIHA Journal(5g), July 1998
Stephenson N.J. Thomas I.D.A., "Reduction of Noise from Construction Machines with particular Reference to Cooling Systems", Noise Control Vibration Reduction" 47-56, Feb. 1975
Anon., "Construction Machinery Noise - A Project and a Package" Noise Control Vibration Isolation", 68-71, Feb. 1979
Bares L.F., Salyers E.F., 'A New Material Systems Approach for Controlling Heavy Equipment Operator Noise Exposure', Internoise 80, 495-498, 1980
Leahy J.C,. Bennett S.C., "Quieter Diesel Powered Vehicles for British Coal Mines", Internoise 80, 499, 1980
Bolt Beranek & Newman, Inc., "Bulldozer Noise Control", May 1980
Bolt Beranek & Newman, Inc., "Front-end loader Noise Control", June 1981
Gonner H.W., "Noise and Vibration Reduction on Construction Equipment", Ergonomics In Developing Countries: An International Symposium, 1985, ILO Occupational Safety & Health Series No. 5802, 24-237, 1987
Sanders C.E., 'A Contractors Approach to Noise control of Off-Road Vehicles", Noise-Con 73 Proceedings, 241-246, l973
Ren Wentang, Li Xiaokuan, "Study on Characteristics of Exhaust Noise of Small Size Gasoline Engine and Design Parameters of Silencer", Internoise 87, 147-l50, 1987
Winnes D.E., Schmeichel S.D. "Exhaust Noise Control for Construction Equipment" Noise-Con 79, 33-43, 1979
Gill H.S., "Control of Impact Pile Diving Noise and Study of Alternative Techniques", Noise Control Engineering Journal, March-April, 1983, vol 20, no. 2, 76-83
Yap KT., "Control of Pile Driving Noise", Inter-Noise 87, 167-170, 1987
Kessler F.M., Schomer P.D. "Pile Driver Noise Control", Inter-noise 80: 321-324, 1980
Patterson W.N., "Portable Air Compressor Noise Diagnostics and Control', Internoise 74, 519-524, 1974
Bartholomae R.C. and Kovac J.G.,"USBM Develops a Low Noise Percussion Drill", Internoise 80, 317-320, 1980
Dixon N.R., Rubin M.N., Bender E.K., Bartholomae R.C., "Noise Control of Jumbo-mounted Percussive Drills", Internoise 80, 49l-494, 1980
Shaw S. & Halliwell NA., 'Stone Cutting Saw Noise: Control Using Water Supply", Internoise 83, 147-150, 1983
Suggs C.W. "Noise Problems of Hand and Power Tools", Noise-con 81, 339-342, 1981
Kesseler K.M. Gray L., "Pavement Breaker Rock Drill noise control Methods', Inter-noise 78 329-336, 1978
Stewart J.S., "Noise Generation Mechanisms for Machines Employing Circular Saw Blades', Noise-con 79, 53-6l, 1979
Broughton K.A., "Practical Assessment of the 'Damping' Effects of 'Quiet' Laser Cut Circular Saw Blades", Euro Noise 92 Proceedings, 521-530.
Construction Industry Advisory Committee, 'Noise in construction: guidance on noise control and hearing conservation measures", HSE, HMSO, 1986

Appendix

(back to top)

Here is an interesting note found 2000/01/17 at this Web site:

http://www.westminster.gov.uk/ep/noise/noisconst.htm

NOISE AND ATMOSPHERIC POLLUTION ON CONSTRUCTION AND DEMOLITION SITES. INFORMATION NOTE FOR CONTRACTORS

This information note is intended for contractors, developers, architects, statutory undertakers and others who are undertaking works in the City of Westminster.

A 24 hour Noise Team exists within the Department of Environment and Planning. The team will respond to all complaints of noise, dust and smoke emissions from building sites within 45 minutes of receipt of the complaint.

Noise Control

Your attention is drawn to the Control of Pollution Act 1974 which enables the City Council to impose requirements as to the time during which noisy work may be carried out and the methods of work to be used.

These requirements can extend to the following descriptions of work:

the erection, construction, alteration, repair or maintenance of buildings, structures or roads;
breaking up, opening or boring under any road or adjacent land in connection with the construction, inspection, maintenance, or removal of works;
demolition or dredging works;
any work of engineering construction (whether or not already comprised in paragraphs a, b, or c above)

The City Council will not hesitate to take action against any person contravening the requirements of a notice served upon them or, where a serious noise nuisance occurs, to take proceedings in the High Court for an injunction.

The Requirements

The permitted hours for any work which is audible at the site boundary are as follows:

MONDAY TO FRIDAY: 8 AM to 6 PM
SATURDAY: 8 AM to 1 PM
SUNDAYS AND BANK HOLIDAYS: NO WORKING

In exceptional circumstances (for example, in the case of Police traffic restrictions or in an emergency) work outside of these hours may be unavoidable and in such cases the person(s) responsible should consult with us as far in advance as possible. Such persons are also advised to notify surrounding residents of works of this type.

The permitted hours of working may be reduced in the case of particularly noisy operations.

Methods of Work

In all cases the best practicable means of minimizing noise on the site must be adopted and in this respect guidance is given in British Standard BS 52228: Parts 1, and 2 (1984) and Part 4 (1986) entitled "Noise Control on Construction and Open Sites.

The following examples are applicable:

for any particular job, the quietest plant and/or machinery should be used. Where appropriate it must be constructed to meet the requirements of EEC Directives;
all equipment should be maintained in good working order and fitted with the appropriate silencers, mufflers or acoustic covers where applicable;
stationary noise sources should be sited as far as possible form noise sensitive developments and where necessary acoustic barriers should be sued to shield them; such barriers may be proprietary types or may consist of site materials such as bricks or earth mounds;
any piling should be carried out by the method causing the minimum of noise and vibration; sheet steel piling whether permanent or temporary should be driven by vibratory jacking or box-silenced percussion systems or a combination of these methods subject to the requirements of the District Surveyor
the movement of vehicles to and from the site must be controlled and should not take place outside the permitted hours unless with prior approval; employees should be supervised to ensure compliance with the noise control measures adopted.